Crystal Resonators Engineering
Design Kit
Raltron's crystal resonators design kit covers commonly used crystal frequencies, specifications and package sizes being designed into today's electronic devices. The kit contains more than sixty combinations of frequencies, load capacitances and package sizes, that are recommended for use with many of the most popular ICs on the market. Samples include frequencies from 8 MHz to 50 MHz in sizes from 5032 to 1210 ceramic packages; and 32.768 kHz in 3215 to 1210 size packages.
A printed card behind each sample pocket shows the Raltron part number, the part description, a URL and a QR code. After registering on the Raltron website designed to support this kit, the URL or the QR code are used to reach a landing page where the user can obtain the full specification, environmental data, request a quotation as well as obtain inventory information from one of Raltron's global distribution partners. The user can also request additional samples for the same item or request parameter modifications to the existing kit item to obtain an optimum specification for a given design.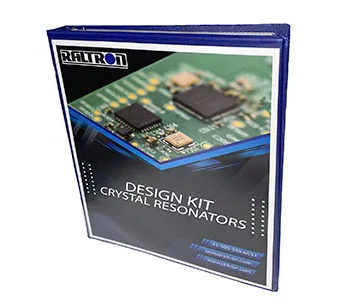 Detailed information about the kit utilization can be viewed in this video:
Raltron Crystal Kit Contents:
Size: 1.2 x 1.0 mm Frequency: 32.768 kHz
Size: 1.6 x 1.0 mm Frequency: 32.768 kHz
Size: 2.0 x 1.2 mm Frequency: 32.768 kHz
Size: 3.2 x 1.5 mm Frequency: 32.768 kHz
Size: 1.2 x 1.0 mm Frequency: 32.000 MHz – 38.400 MHz
Size: 1.6 x 1.2 mm Frequency: 24.000 MHz – 48.000 MHz
Size: 2.0 x 1.6 mm Frequency: 16.000 MHz – 50.000 MHz
Size: 2.5 x 2.0 mm Frequency: 12.000 MHz – 40.000 MHz
Size: 3.2 x 2.5 mm Frequency: 8.000 MHz – 50.000 MHz
Size: 5.0 x 3.2 mm Frequency: 8.000 MHz